Auf unserer selbst organisierten Reise haben wir die meisten unserer 9 Hotels in Peru bereits vorab gebucht. In diesem Beitrag fassen wir alle unsere Unterkünfte in Peru während unseres Roadtrips 2019 für dich zusammen. Fast alle waren wirklich tolle Unterkünfte, manche günstiger als andere. Nur eine würden wir tatsächlich nicht weiter empfehlen, daher lohnt es sich definitiv die Hotels durchzusehen. Vielleicht ist ja auch für dich das ein- oder andere nette Hotel für deine Peru Reiseplanung dabei. Klicke einfach auf die Namen der Hotels um zur Buchungsseite zu gelangen.
Was du auf alle Fälle vorab buchen solltest 
sind Hotels in den Hotspots wie Cusco, Aguas Calientes oder Ollantaytambo. Ansonsten kannst du deine Hotels auch spontaner buchen. Gerade Unterkünfte in den Anden Richtung Huancarayalla sind nicht auf Booking.com oder anderen Buchungsplattformen zu finden, wenn du dir eine Simkarte in Peru zulegst, kannst du aber vor Ort dann meist anrufen und buchen, oder auch einfach dort auftauchen. Die Peruaner sind ein recht freundliches Volk und sind gerne behilflich. 
Zwei tolle Unterkünfte in Arequipa
Das Wayra Bed and Breakfast war unsere erste Anlaufsstelle, als wir nach der langen Anreise endlich in Arequipa ankamen. Es ist eine kostengünstige und gemütliche Unterkunft und wir fühlten uns dort gleich sehr Willkommen. Das Personal war extrem freundlich und bemüht und auf dem Dach gibt es Hängematten. Alleine das Warmwasser in den Duschen ist etwas spärlich vorhanden, das Wasser im Boiler wird von den Solaranlagen auf dem Dach gespeist. Zu einer heißen Dusche gehört also ein bisschen Glück. Allerdings macht das gute Frühstück das alles wieder wett! Man speist auf der Dachterrasse und das Personal kocht in einer Outdoorküche frische Pancakes und Eier, dazu gibt es frisch gepressten Papaya – oder Ananassaft! 
Das Hotel ist nur etwa sieben / acht Gehminuten vom Plaza de Armas von Arequipa entfernt, für uns eine perfekte Lage für den Start unserer Peru Reise!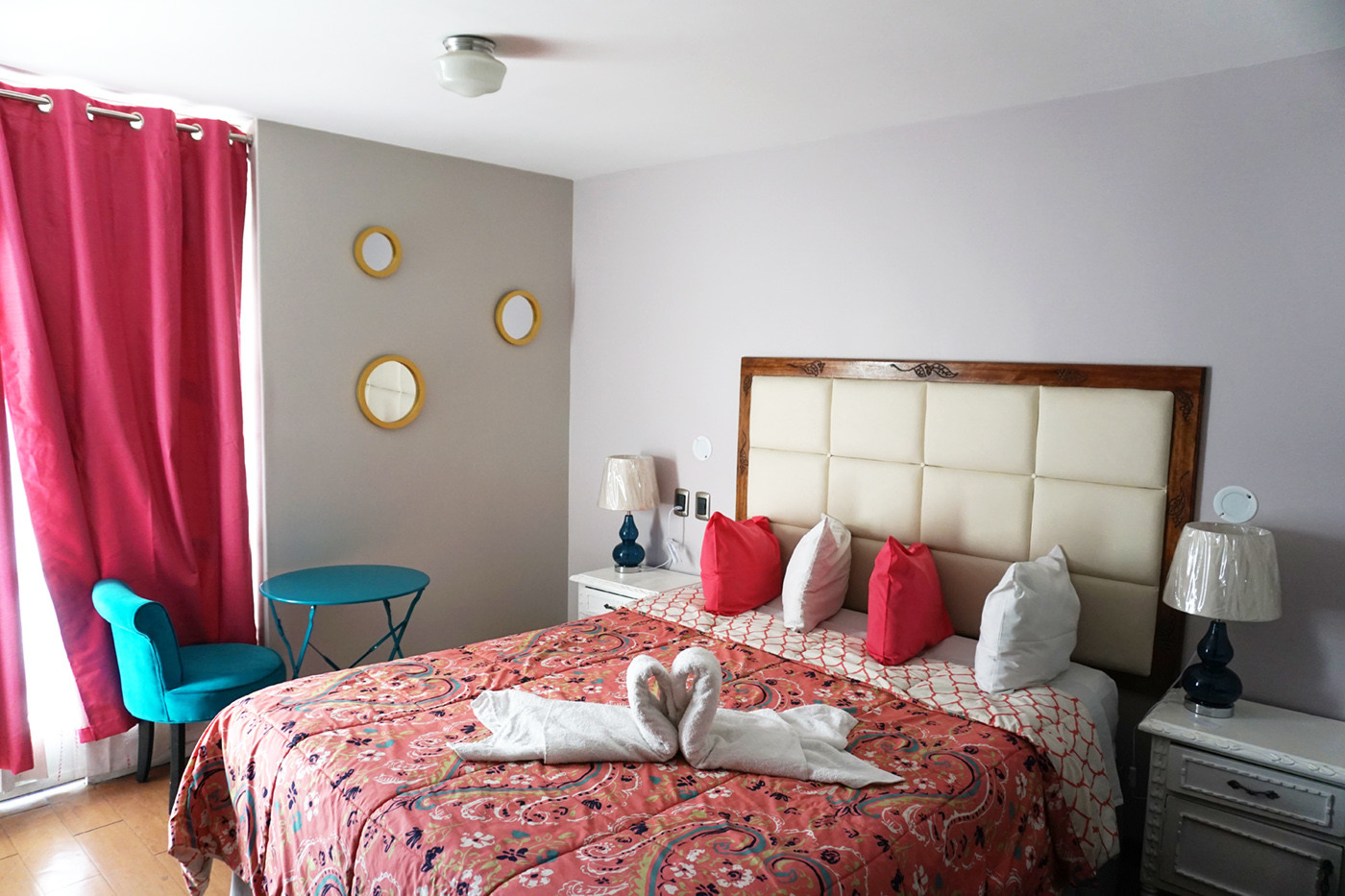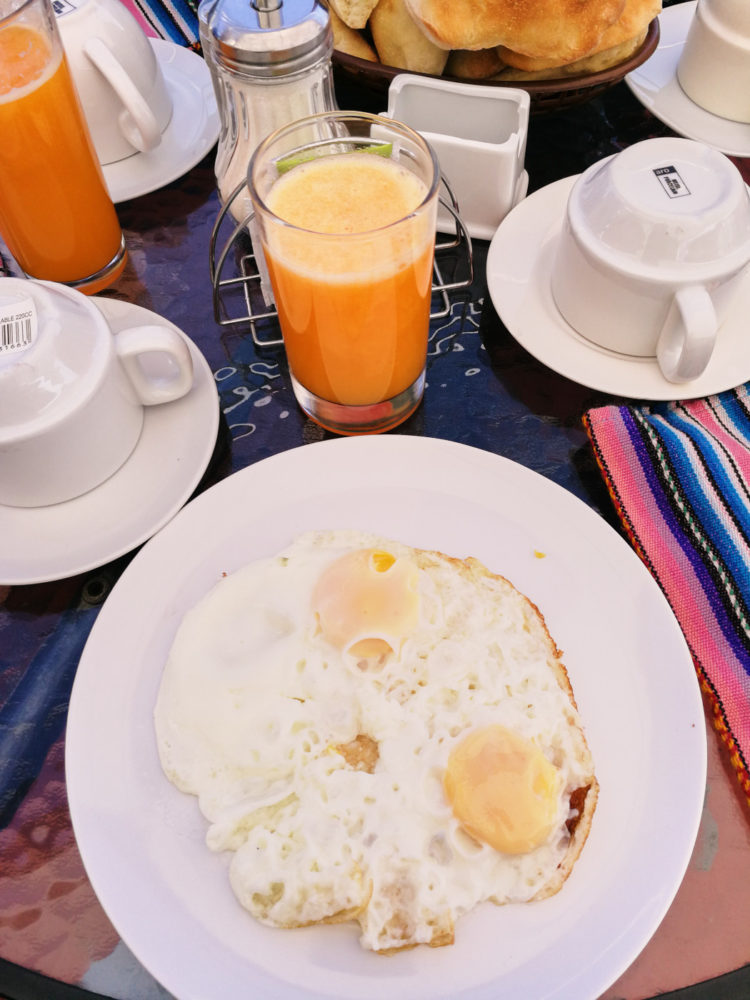 Dieses Hotel liegt genau auf der Unterseite des Klosters Santa Catalina in Arequipa, ebenfalls nur etwa fünf bis zehn Gehminuten vom Plaza de Armas entfernt. Hier haben wir noch 8 Must Sees & Must Do's in Arequipa. Um das Auto auszuladen, kann man auch in einer Kurzparkzone vor dem Hotel oder in der Nähe stehen bleiben. Hier haben wir gewohnt, als wir von unserer Rundreise durch Peru wieder zurückgekommen sind. Es ist verglichen zu dem Wayra etwas moderner / internationaler eingerichtet, dafür aber halt nicht ganz so persönlich. Wer gewissen Komfort einfach braucht, sollte sich dieses Hotel nicht entgehen lassen. 
Auch der Wäscheservice funktionierte super! Auch hier gibt es eine Dachterrasse mit Frühstücksbuffet, es ist alles sehr professionell gemacht. Von uns definitiv eine Empfehlung! 
Ein Familienbetrieb in Chivay – wir hatten uns spontan in das Hotel aufgrund der Fotos (und der Alpakas im Hof) verliebt. Die Ankunft war ein bisschen chaotisch, erst gab es für Ronnies und mein Zimmer keinen Schlüssel, wir sollten aber trotzdem schonmal unser Gepäck hinbringen. Auf mehrmalige Nachfrage wurde dann doch irgendwann ein Schlüssel ausgehändigt. In Kommentaren lasen wir davon, dass es in der Nacht sehr kalt werden kann (das Hotel hat keine Heizung, so wie viele Häuser in Peru), man aber eine Wärmflasche bekam. Als es dunkel wurde, fragten wir mal danach, die Dame sah nicht so wirklich begeistert aus, zehn Minuten später klopfte es allerdings an der Tür und die beiden Kinder händigten uns freudestrahlend die Wärmflaschen aus. Damit war es in der Nacht unter den dicken Decken eigentlich sehr angenehm. 
Das Frühstück war sehr lecker, es gab Spiegeleier, jede Menge Cocatee und Brot mit Marmelade. Eine nette Unterkunft, die Familie war ein bisschen eigen, aber vielleicht waren sie auch bei uns gerade nicht so unglaublich gut drauf.
Ein relativ großes Hotel in Puno. Die Einrichtung ist zwar nicht mehr die allerneueste, es ist aber alles sauber, gemütlich und es gibt eine heiße Dusche! Das Hotelpersonal ist sehr bemüht, wir durften sogar unser Auto direkt vor dem Ausgang des Hotels stehen lassen und der Portier hatte ein Auge drauf. Sogar als wir die eine Nacht auf den Uros Inseln verbrachten, durften wir unsere Koffer in diesem Hotel lassen! Das Frühstück bestand aus einem Buffet, sogar kleine Kuchen gab es, auf die wir uns natürlich alle stürzten ;-) 
Carlos und seine Familie betreibt ein kleines Hotel auf einer der Uros Inseln. Wir wurden von einem Fahrer beim Hotel Balsa Inn abgeholt und dann von Carlos' Vater mit einem Motorboot abgeholt und zur Insel gebracht. Wir wurden sehr nett empfangen und wurden schnell auf die Zimmer / Hütten aufgeteilt. Aus unserem Zimmer konnte man durch das Fenster sogar noch auf eine kleine Terrasse steigen, es gab Liegestühle und Sonnenschirme aus Stroh. 
Das Abendessen hatte sich etwas in die Länge gezogen, aber es war sehr sehr lecker. Am nächsten Tag hatten wir als Abfahrt 08:00 und das Frühstück auf 7:30 gelegt. Um etwa 9:15 fuhren wir dann tatsächlich los – eine peruanische Viertelstunde später also ;-) 
Nichts desto trotz war es eine wirklich besondere und sehr nette Unterkunft. Den Sonnenuntergang über dem Titicacasee so zu genießen und auf einer schwimmenden Insel zu übernachten war definitiv ein Highlight für uns! 
Diese Airbnb Unterkunft in Cusco war toll! Wir haben hier nur eine Nacht verbracht und das Haus liegt etwas Abseits des Zentrums, dafür aber in einer geschützten Nachbarschaft. Es ist zu empfehlen von dort aus mit taxis seguros ins Stadtzentrum zu fahren. Die Besitzer waren supernett, wir wurden erst von der Haushälterin reingelassen, später stellte sich uns noch 'Mamma' jovial vor und half uns ein Restaurant für den Abend auszumachen. Die Zimmer sind sehr großzügig gehalten, es gibt Warmwasser im Badezimmer und am Morgen machte Mamma noch für alle Frühstück. 
Außerdem gab es zwei lustige Hunde: einen frechen kleinen weißen und einen riesigen grauen Hund namens Mikey. Ich glaube Mikey war eine dänische Dogge. Ein großes, gutmütiges und etwas dümmliches Tier. Aber die beiden waren sehr witzig und verliehen dem Airbnb noch ein bisschen mehr Charme! Gerne hätte ich noch mehr Zeit zum Entdecken des Hauses und der Umgebung gehabt, aber für uns war es eine Überbrückungsnacht, da es am nächsten Tag gleich weiter ins Heilige Inka Tal ging. 
Das Killaly Inn Bead and Breakfast ist eine günstige Unterkunft im Zentrum von Cusco. Zum Plaza de Armas sind es nur heiße fünf Minuten den Hügel hinunter. Die Besitzer waren recht freundlich und wir durften unser Auto wieder direkt vor der Unterkunft abstellen. Die Zimmer waren nett, wenn auch etwas dünnwandig, warmes Wasser war meistens vorhanden, aber nicht immer. Da sie bereits recht voll waren, haben Ronnie und ich das Zimmer im Untergeschoss erhalten, mit recht abgewohnten Möbeln, und es war auch recht zugig und kühl. Die Decken waren allerdings ausreichend warm. Beim Frühstück musste man schnell sein, aber auch hier gab es immer noch etwas zu essen. Die Lage ist ein absoluter Vorteil! Direkt um die Ecke gibt es zahlreiche wirklich leckere Lokale und man ist nicht auf Taxis angewiesen! 
Ein sehr nettes Hotel in der Inka Stadt Ollantaytambo. Wir hatten es ausgewählt, weil es auch sehr nahe am Bahnhof nach Machu Picchu liegt. Dennoch ist man auch in wenigen Gehminuten bei den Ruinen von Ollantaytambo oder bei den vielen Restaurants. Der Wäschedienst funktionierte ebenfalls gut und das Frühstück war sehr lecker, sogar Pancakes gab es! Außerdem kann man sich für einen kleinen Aufpreis SEHR guten Kapselkaffee herunterdrücken. Den dünnen Filterkaffee konnten wir langsam nicht mehr sehen. Auch die Zimmer waren gemütlich und es gab herrlich heißes Wasser in der Dusche! 
Platten auf dem Parkplatz
Parken muss man auf der Wiese im Hinterhof des Hotels. Ansich überhaupt kein Problem, zumal es sogar näher an unseren Zimmern war. Leider war die Einfahrt übersät von großen Nägeln und wir haben uns leider einen Nagel eingefahren und hatten dann einen Platten, was uns aber erst bei der Abreise auffiel. Das Personal des Hotels verstand erst unser Problem nicht, sie sahen beim Hotel keine Schuld. 
Große Hilfe vom Hotel
Nach einigem Hin- und her halfen sie uns aber unglaublich. Ein Hotelmitarbeiter fuhr mit uns im Auto zu einer Werkstatt in der Nähe, die wir ohne seine Hilfe niemals gefunden hatten. Außerdem dolmetschte er zwischen dem Mechaniker, uns und der Autoagentur und half uns sogar eine Rechnung (!!!) für die Reparatur zu bekommen. Ohne die Mithilfe des Hotels hätten wir sehr viel mehr Zeit mit dem Platten verloren. Davon würde ich mich jetzt nicht abschrecken lassen. Nur vielleicht vorher mal kurz die Auffahrt absuchen und wenn alles passt erst hineinfahren. Auf dem 'Parkplatz' standen übrigens auch in ein bisschen Entfernung zwei süße Alpakas ;-) 
Dieses Hotel würden wir als einziges NICHT empfehlen. Als wir ankamen, wurde uns mitgeteilt, dass für uns keine Reservierung vorliegt. Als ich den Herrn bei der Rezeption auf unseren Namen im System hinwies, meinte er 'achso'. Dann hieß es, naja, sie sind aber trotzdem schon voll. Nach vielem Hin- und Her hieß es dann er könne uns ein Zimmer für zwei Personen geben. Da wir aber zu viert waren, fragte ich erst, ob es möglich wäre, dass wir in diesem Zimmer zu viert schlafen – vielleicht wären es ja zwei Queensize Betten oder schmälere einzelne Betten gewesen. Er meinte daraufhin, dass das nicht ginge und das Zimmer sehr sehr klein und eng wäre. Dann fragte ich, ob er uns ein anderes Hotel empfehlen könnte, das noch freie Zimmer hat. 
Schwierigkeiten im Hotel
Er nannte uns einen Namen, meinte aber, dass er das Hotel nicht anrufen könne, das sollten wir selber machen. Zudem sah das Hotel deutlich teurer aus. Da es schon dunkel war und wir nach der langen Fahrt von der Rope Bridge schon ziemlich geschlaucht waren, machten wir uns also auf nach einer neuen Unterkunft. Diese zu finden war ebenfalls eine ziemliche Odyssee und die Nennung des Namens nicht wirklich von Bedeutung, da ich eine Nacht dort auch nicht als Highlight empfinden würde. 
Auch die anderen hatten Pech
Die andere Gruppe, die auch in diesem Hotel Zimmer reserviert hatte, bekam auch keine Unterkunft. Sie wurden dann in ein anderes Hotel geschickt, wo es erst auch hieß, dass sie keine Zimmer hätten. Dann wurden sie vom Hotel Don Bartolo angerufen, dass sie jetzt vielleicht doch noch Zimmer für sie hätten. Letztendlich blieb es aber dann bei dem Ersatzhotel. Ich kann mir vorstellen, dass eine normale Nacht in diesem Hotel durchaus angenehm sein kann. Für uns hat aber einfach gar nichts funktioniert und die Art, mit der wir von dem Consierge behandelt wurden, fanden wir einfach unmöglich. Daher von dieser Seite: Lieber ein anderes Hotel in Espinar buchen.
Hotels in Peru - das haben wir gezahlt
Wir hatten eigentlich mit fast allen Unterkünften Glück und waren sehr zufrieden. Abschließend sollte aber noch gesagt sein, dass man den Standard in den peruanischen Hotels nicht mit europäischem Standard vergleichen kann. 
Es gibt durchaus sehr tolle und luxuriöse Hotels, diese kosten dann aber auch dementsprechend. Wir haben bei unserem Trip auch auf das Budget geachtet.
Pro Person und Nacht haben wir durchschnittlich € 16,15 ausgegeben.
Bei 15 Nächten in Peru macht das € 242,– pro Person.
In den Städten und Stadtzentren sind die Hotels natürlich am teuersten, dafür kann man oft auf Taxis verzichten und spart sich den Stress ein 'Taxi seguro' zu identifizieren. Ist man selbst mit dem Auto unterwegs kann man auch Hotels am Stadtrand oder in kleineren Orten ansteuern, da kostet die Übernachtung oft nur 11 – 15 Euro die Nacht pro Person. 
Dazu muss auch gesagt werden, dass es in vielen Unterkünften in Peru noch nicht dauerhaft mit Warmwasser zu rechnen ist und auch eine Heizung nicht selbstverständlich ist (vor allem in den Andenregionen). Dafür gibt es aber fast überall sehr dicke, warme Decken. Ich hatte zwar extra meinen Schlafsack mitgebracht der bis -15 Grad Celsius gehen sollte, habe ihn aber in Peru kein einziges Mal gebraucht. Die Peruaner kümmern sich auch ganz nett und wenn man sich meldet, dass einem kalt ist, bekommt man oft auch Wärmflaschen aufs Zimmer gebracht. Die Situation mit dem Warmwasser könnte sich aber in den nächsten Jahren wandeln, da wir schon auf extrem vielen Häusern Solaranlagen gesehen haben, die den Boiler speisen. Sogar auf den Uros Inseln waren die Strohhütten mit Solarpanels ausgestattet! 
Like it? Pin it, share it :)
Hat dir der Beitrag gefallen?
Oder hast du noch Fragen?
Wir freuen uns immer über Kommentare, wenn du den Beitrag teilst oder auf dein Peru Urlaub Pinterest Board pinnst.
Wenn wir dir mit vielen nützlichen Infos helfen konnten, kannst du unseren Blog auch unterstützen, in dem du uns einen Kaffee spendierst, oder etwas über die mit * markierten Beiträge kaufst. Dabei handelt es sich um Affiliate Links. Von Käufen, die über diese Links getätigt werden, erhalten wir einen klitzekleinen Anteil. Durch deine Unterstützung finanzieren wir Serverkosten und Programme die wir zum Betreiben dieses Blogs benötigen.