An diesem Tag stand der Barron Gorge Nationalpark auf dem Plan, am nächsten Tag ging's nach Port Douglas.
Zum Barron Gorge Nationalpark kommt man von Cairns aus entweder mit dem Auto über eine kurvige lange Straße durch den Regenwald, mit dem Zug von Cairns aus oder mit der Skyrail Gondel. Der nostalgische Zug ist für viele ein Erlebnis für sich und setzt einen direkt in Kuranda ab, dem berühmten Village in the Rainforest. 
Wir haben uns für das Auto entschieden, weil wir einfach vor Ort auch flexibler sein wollten und sind über die nördliche Straße in den Park gefahren. 
Barron Gorge National Park
Googelt man die Barron Falls findet man unzählige Bilder von einem reißenden, gigantischen Wasserfall. Die Beste Zeit um die Barron Falls zu sehen ist in der Regenzeit von Dezember bis März. Das ging sich bei uns leider nicht aus und so war der Wasserfall eine riesengroße Schlucht mit einem dünnen Rinnsal. Schön war es trotzdem! Vor Allem weil man vom Auto aus nur ca. 10 Minuten über Planken und Wege direkt durch den Regenwald zur Aussichtsplattform geht.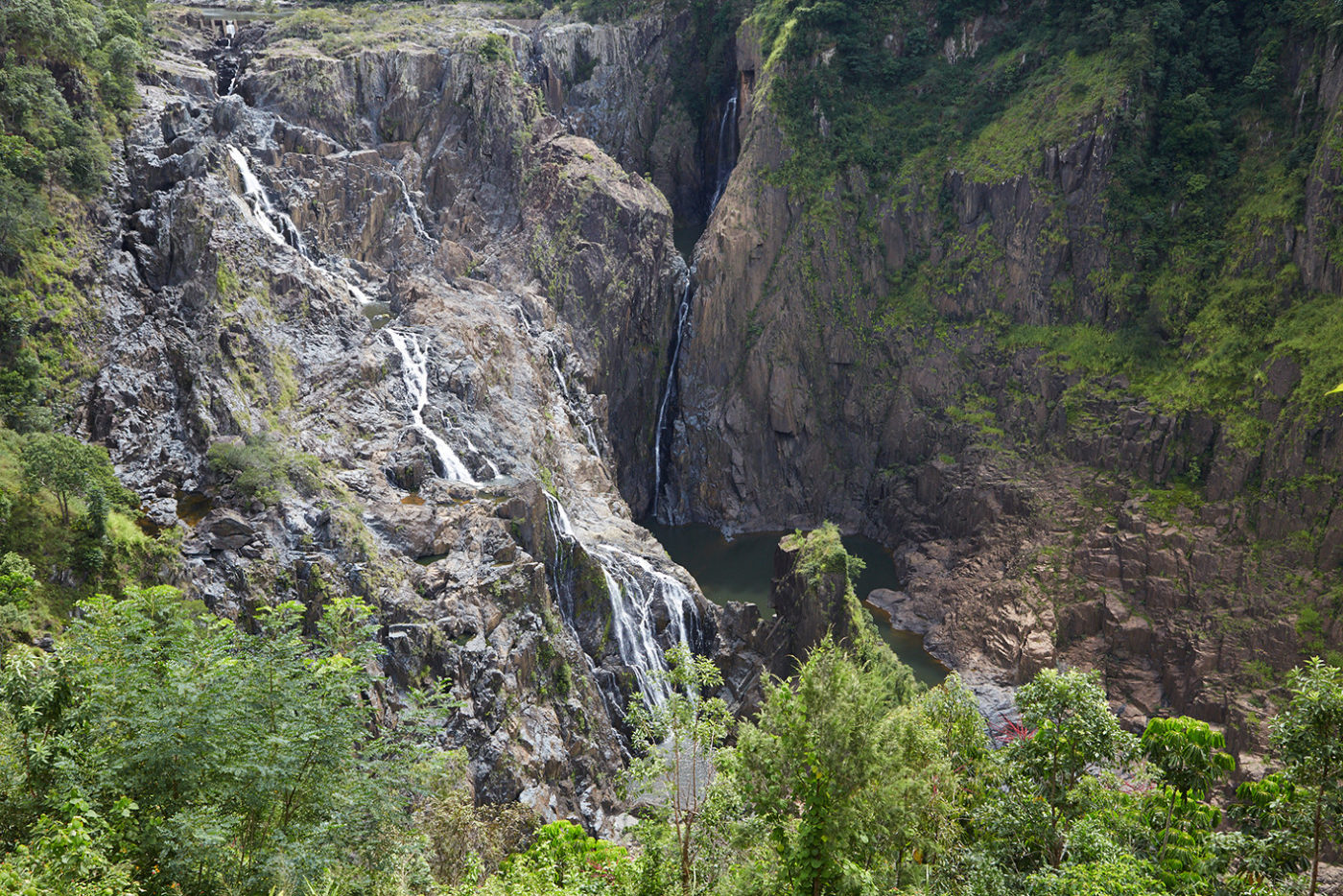 Danach sind wir noch den Surprise Creek Track in den Regenwald gefolgt, der später auch in den Mcdonalds Track mündet. Der Track führt den Regenwald hinab zu einer Flussmündung. Etwa bei der Mündung haben wir uns dann dazu entschieden umzukehren. Der Weg war schön, aber vielleicht waren wir auch einfach schon von den vielen Nationalparks übersättigt und die Schönheit des Regenwaldes dort hat uns einfach nicht mehr so tief berührt. Wir haben noch kurz in Kuranda vorbeigeschaut, da es ja vielfach im Internet mit unglaublich vielen Tagestouren angepriesen wird. 
Das Dorf selbst war eigentlich nicht besonders beeindruckend. Es ist eben eine Kleinstadt, die fast ausschließlich auf Tourismus ausgelegt ist. Es findet sich ein Souvenierladen nach dem anderen, ein paar Cafés und Ausflugsagenturen finden sich. Für uns hatte das Dorf keinen besonderen Charme. Nachdem wir entschieden hatten, dass wir den nächsten Tag nicht unbedingt nochmal im Barron Gorge verbringen mussten, haben wir uns einen Campingplatz am Meer rausgesucht und sind zurück Richtung Cairns gedüst.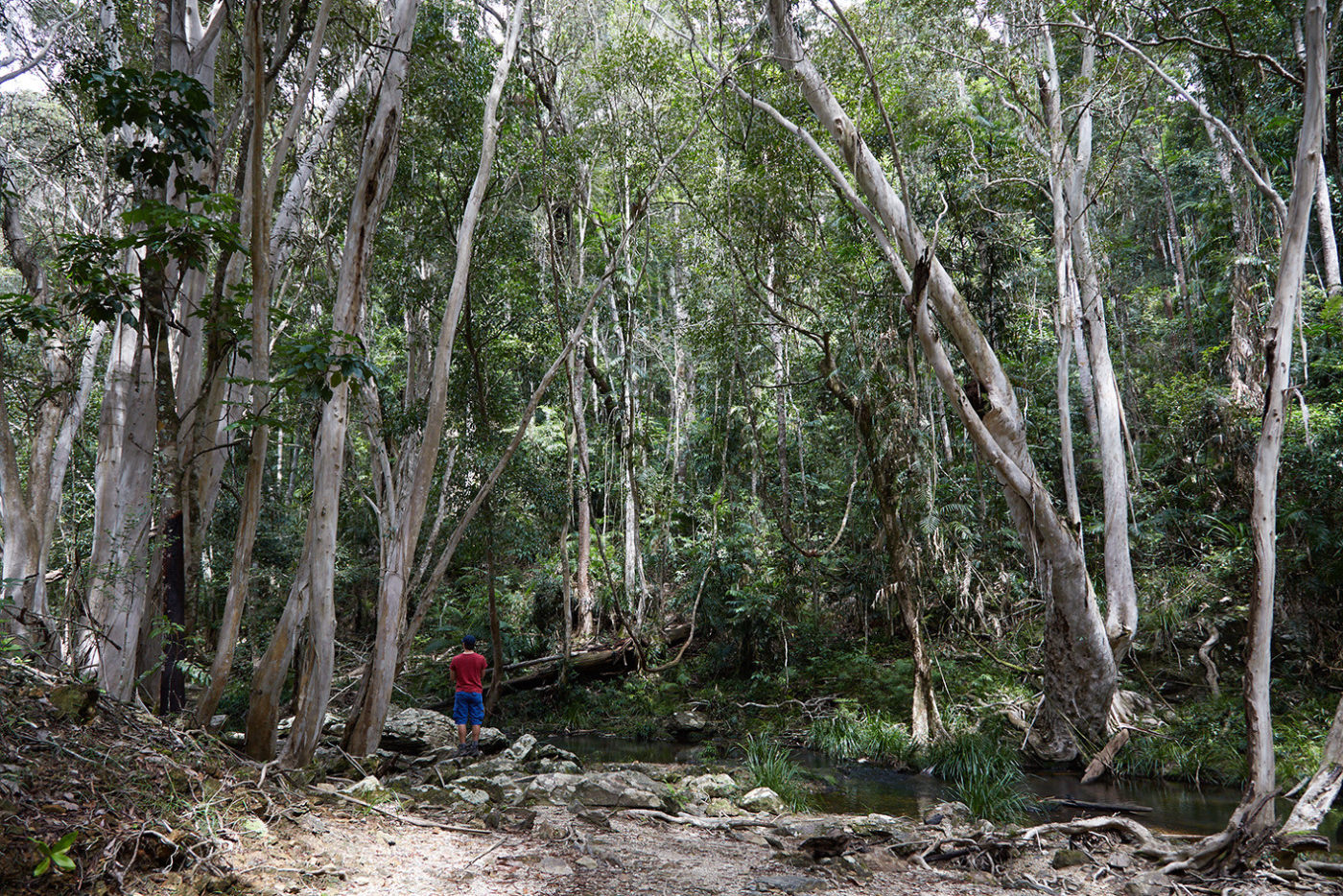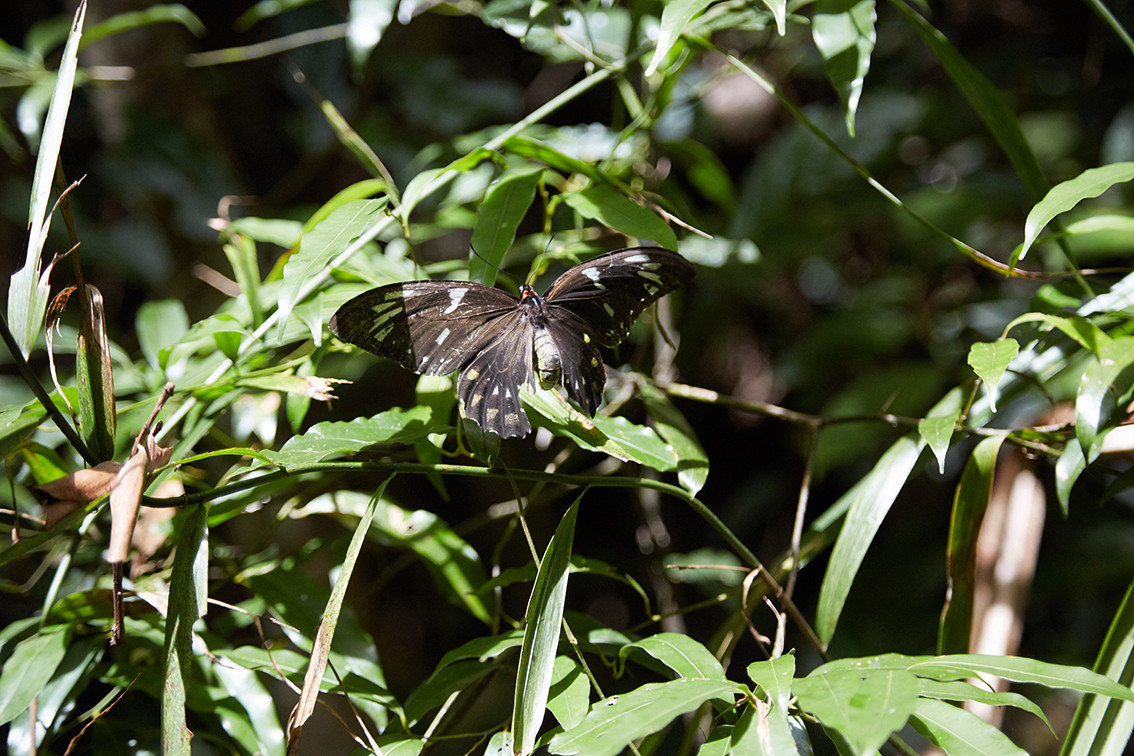 Ein wunderbarer Campingplatz!
Und der Campingplatz in Palm Cove war der absolute Oberwahnsinn! Er lag fast direkt am Meer, man musste nur einmal über die Straße laufen und schon war man am Strand! Die Küche war super sauber und auch die Duschen waren toll ausgestattet. Wir hatten unseren Campspot direkt am Ausgang und haben abends noch draußen Karten gespielt, über uns flogen die Fledermäuse in der Dunkelheit rum.
An dem Tag sind wir auch gleich noch an den Strand gelaufen und haben gleich mal kurz gestutzt. Entlang des Strandes fanden sich Hinweistafeln mit: Achtung Quallen. Achtung Krokodile! Bisher hatten wir zwar schon Schilder mit der Warnung vor Quallen gesehen, aber noch nie welche, die vor Salties warnen!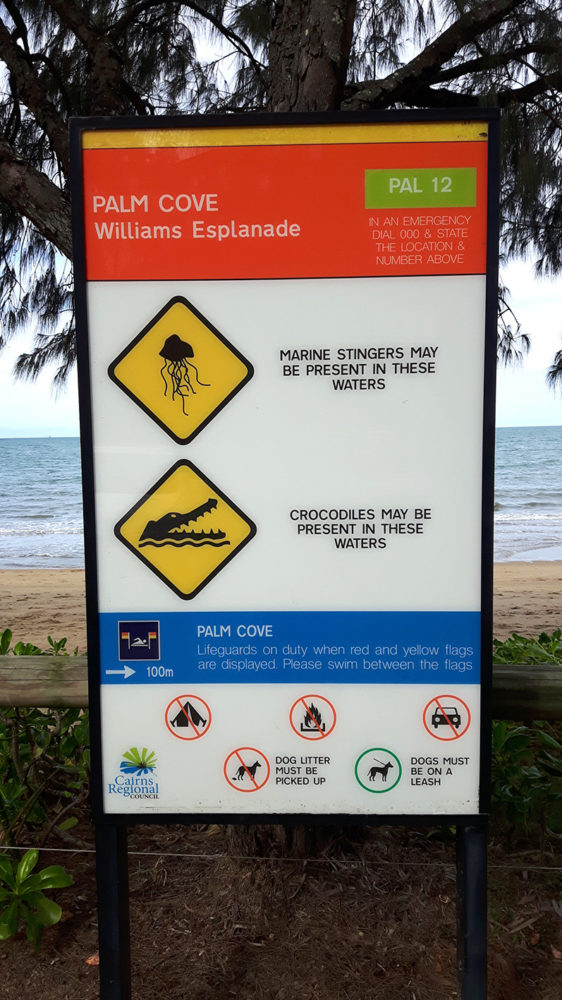 Baden am Quallen- und Krokodilstrand
Die Warnschilder haben uns aber natürlich nicht abgehalten! Grundsätzlich solltest du immer Aufmerksam sein und in solchen Gewässern dann auch wirklich NICHT schwimmen gehen. Entlang dieses Strandes gab es aber Stinger Net Areas, Bereiche die mit Netzen umspannt sind und so Quallen fern halten sollen. In diesen Bereichen sind auch Bademeister anwesend, die im Falle des Falles sofort medizinisch zur Hilfe stehen. 
Das klingt jetzt alles viel dramatischer als es wirklich ist, abgelaufen ist eigentlich alles recht entspannt und wir haben es SO genossen, einfach mal NUR am Strand zu liegen und zu entspannen! Noch dazu in so einem Paradies!
Worauf du bei Quallen in Australien achten musst und was zu tun ist, wenn dich doch mal eine nesselt, kannst du in unserem Post über Quallen in Australien nachlesen.
Den nächsten Vormittag haben wir nochmal am Strand verbracht, mit wunderbarem Coffee to Go im Sand gechillt! Gegen Mittag sind wir dann nach Port Douglas hochgefahren. Man fährt die wunderbare Küste entlang und hat einen tollen Ausblick auf das Great Barrier Reef während der Fahrt. 
Port Douglas ist berühmt als etwas schönere, noblere Alternative zu Cairns. Auch von dort aus kann man Touren zum Great Barrier buchen, meist sind sie aber preislich etwas teurer als jene von Cairns.
Der Ort selbst ist nett, ein kurzer Spaziergang hat uns dann aber trotzdem gereicht. Am Rand des Ortes gibt es noch einen richtig schönen Park mit tollen Palmen und alten Bäumen.
Wir sind dann noch ein Stück weiter gefahren Richtung Daintree Rainforest und haben unterwegs an einem Campingplatz übernachtet, der ans örtliche Schwimmbad grenzt. Den Pool haben wir gleich mal ausgenutzt – wie oft hat man sowas schon beim Campingplatz dabei?!