Our Iceland Roadtrip starts
As we arrived at Reykjavik airport, it already rained like CRAZY! Was it a sign for the rest of the trip?! 
However, getting our rental car was easy and uncomplicated.  So we started our Iceland roadtrip with bad view, heavy winds and pouring rain. 
Today's goal was  our Airbnb House near the Golden Circle at Selfoss. Due to various mistakes and misinformation it took us way over an hour detour to finally arrive at the house. 
Short information: When looking at the adress on Airbnb it stated 'Grímsnes- og Grafningshreppur' as the 'city'. It's NOT a city or a village, it's actually more like a huge district!
Our amazing home near Selfoss calmed us all down and happy yet very tired, we went to bed hoping for better weather for the upcoming days.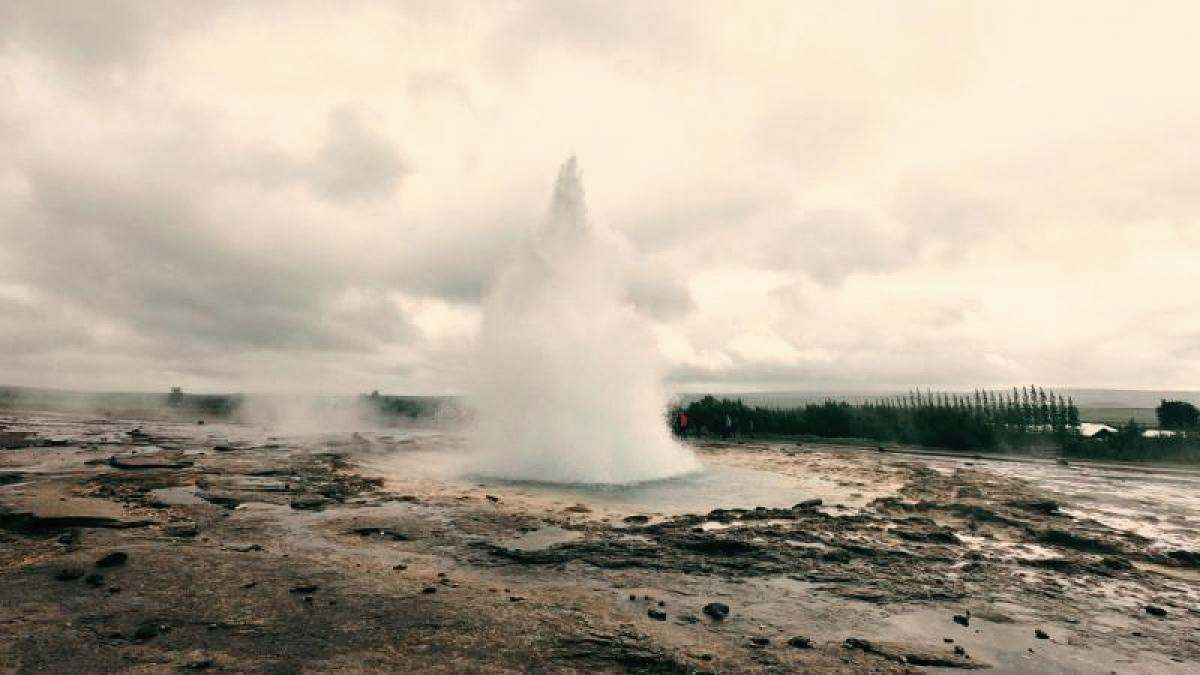 Our Iceland roadtrip started with a tour along the Golden Circle. Here you can find the  whole route of our roadtrip. At about 7:30 we left our house and arrived at 8:30  the parking lot of Iceland's most famous Geysir! During the trip there was light rain, but as we arrived at Geysir it suddenly stopped and here and there was a glimpse of sunlight, shining through the clouds. You could see the smoke arising from the Geysir long before on the road, but being in front of it when it erupts is just magical. As this special Geysir is erupting every 3 – 6 minutes we stayed a while gasping at the wonderful Geysir. We were very lucky that we've been there so early! Right as we went back to the parking lot, lots of Tourist Busses arrived, probably coming all the way from Reykjavik.
Gulfoss - probably the most famous Waterfall in Iceland
Only 11 minutes away you can spot the famous Gulfoss Waterfall. Here you can see that you finally arrived at the Icelandic Mass Tourism! On top of the waterfall there is a HUGE parking lot with a giant restaurant / cafe paired with a souvenir shop.
Nevertheless the waterfall is just stunning. You should definitely walk all the way to the front, but be aware that you're getting wet. VERY WET! Packing a rainponcho is a must for Iceland, so skip that sexy-Instagrammer Look and put on the even sexier rain poncho and storm your way to the front. The feeling is just amazing! Standing right at the edge, hearing the thundering water passing bay and there is only one tiny string separating you from this  force of nature, telling you discreetly 'walk till here and no further'. 
The Icelandic people seem to trust their tourists a lot. We were very positively surprised – in Austria it would probably be forbidden to walk that close to the waterfall, because one could slip! 
After those special moments and lots of photographs later, we were pretty cold and were thankful for the restaurant on top of the waterfall, drying up a little and warming up with a good soup before continuing our trip.
Thingvellir - you should definitely see this place!
About an hour drive away lies Thingvellir or icelandic  Þingvellir Nationalpark. Here the american and the european tectonic plates are still moving away from each other and created a huge crater through the icelandic landscape. 
Quick information: The parking lot costs 750 ISK (€ 5,30), which you can also pay by credit card! Also the way down in the crater is also suited for disabled people. Here it was also allowed to fly drones. As it was very windy that day, I only flew very shortly. If you consider bringing a drone to Iceland be sure to check out theses informations about  No Drone Zones in Iclenad.
It also pays of to spend a little more time there and walk all the way to Öxárafoss waterfall! The waterfall is really pretty and there weren't a lot of tourists! 
Lake Kerid - a true Highlight for us!
When driving back to our house we wanted to hop by Lake Kerid. It was already 8pm and as we drove on the parking lot the sun suddenly came out and all the landscape got a yellowish-green tone and it was pure magic! 
This lake to me was the biggest surprise of the day! When driving on the main road you would NEVER expect that you're just passing such a beautiful thing, because you can't see it from the road. The turquoise volcanic lake lies amidst neon green moss and dark read volcanic soil. Such an amazing place! 
We were very excited what adventures we were gonna have on the rest of the trip. For tomorrow, we planned a hike to Kerlingarfjöll in the Landmannalaugur region. It did not go quite as we expected it to be, so stay tuned ;-)